ASTM E1592 – Wind Uplift Test
ASTM E1592 Wind Uplift Test is the standard test method for structural performance of sheet metal roof and siding systems by uniform static air pressure difference.  The ASTM E1592 test method covers the evaluation of the structural performance of sheet metal panels and anchor-to-panel attachments for roof or siding systems under uniform static air pressure differences using a test chamber or support surface.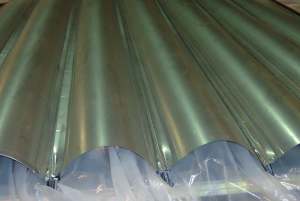 Metal building manufacturers, metal building component manufacturers, and jobsite rollformers typically have their panels ASTM E1592 tested.  This standardized test allows the metal building community to provide proof that their panels are a good choice for areas prone to high winds including coastal areas.
The ASTM E1592 test method is applicable to standing seam, trapezoidal, ribbed, or corrugated metal panels in the range of thickness from 0.012 to 0.050-in. (0.3 to 1.3-mm) and apply to the evaluation of uniform pressure applied to single-skin construction or one sheet metal layer of multiple-skin construction. They do not cover requirements for the construction of a specimen to determine the load sharing that can occur with either composite or multiple-layer construction such as: (1) metal cladding over wood sheathing; or (2) field assemblies of insulation sandwiched between corrugated or formed metal panels.*
Onsite testing is performed locally at our McKeesport, PA facility.  Our laboratory is equipped with the necessary tools and information needed to accurately perform this type of test.  If you have metal panels that need tested please contact us today.  Farabaugh Engineering and Testing also offers additional ASTM testing for metal panels including:
ASTM E72 – Structural Performance
ASTM E283 – Air Leakage
ASTM E455 – Shear Diaphragm
ASTM E1646 – Water Penetration
ASTM E1680 – Air Infiltration
ASTM E1886 – Missile Impact
*Information provided by astm.org