CLAY AND CONCRETE TILE TESTING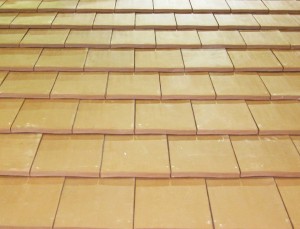 FET offers a variety of testing and engineering services to the Clay and Concrete Tile Industry.  Testing of clay and concrete roof tiles focuses on uplift resistance and various performance criteria for the specific materials.  FET also provides engineering services necessary to establish various coefficients and load capacities required by building codes.
The list below is a sample of our clay and concrete tile testing services.   If you require a Test that is not listed below please contact us at 412-751-4001.
| | |
| --- | --- |
| ASTM C1167, Standard Specification for Clay Roof Tiles | Clay roof tile testing consisting of freeze/thaw, Durability, transverse breaking strength, efflorescence, reactive particulates, permeability, dimensions, and weights |
| TAS 100, Wind Driven Rain Test | determination of the water infiltration resistance of all discontinuous roof systems, consisting of a prepared roof covering and underlayment, when applied at slopes of 2:12 or greater over a nailable deck |
| TAS 101,  Uplift Resistance Test | determination of: 1) the average weight (W) of a tile; 2) the restoring moment due to gravity  provided by the tile's weight; 3) the minimum characteristic resistance load (F'); and, 4) the attachment resistance expressed as a moment provided by the mortar or adhesive bond to the tile. |
| TAS 102, Uplift Resistance Test | |
| TAS 102A, Uplift Resistance Test | determination of: 1) the average weight (W) of a rigid component; 2) the restoring moment due to gravity provided by the component's weight; 3) the minimum characteristic resistance load (F); and, 4) the attachment resistance expressed as a moment provided by the mechanical attachment and clipped attachment of the component |
| TAS 108, Wind Tunnel Test | The test provides the pressure distribution occurring, at various wind speeds, on the top and bottom surfaces of an instrumented component within a test specimen consisting of a wood deck; underlayment; and, an air permeable, rigid, discontinuous roof system |
| TAS 110, per ASTM C1167 | Approved roof assemblies and the Roofing Components  shall be in compliance with the applicable ASTM Standards. |
| TAS 112, Standard Requirements for Concrete Roof Tiles | Quarterly Testing Requirements per Dade County Florida Product Approval |
| Engineering Services | Engineering Analysis including calculations of Aerodynamic Multipliers, Restoring Moments Due to Gravity and Attachment Moment |